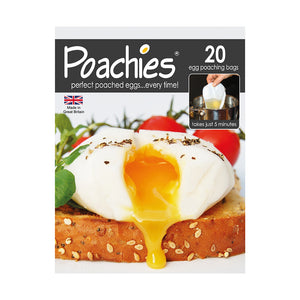 POACHIES® Revolutionary Egg Poaching Bags !
Egg-Poaching bags allow water to contact the egg, without the raw egg leaking into the water.
After a few minutes your delicious poached egg slides out easily using no butter, no oil, and no vinegar, so you get 'proper' water-poached eggs, perfect, first time, every time!
Immerse several together in one saucepan and make as many poached eggs as you want. all at the same time.
Each pack contains 20 disposable egg poaching bags.