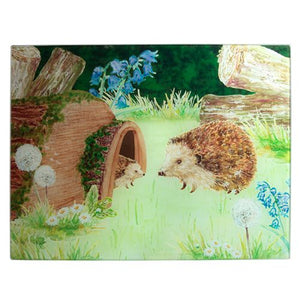 Protect your worktop from heat and scratches with this delightful Hedgehugs Glass Worktop Saver. The glass surface provides a hygienic surface which is easy to clean and is finished with a delightful painting of a hedgehog coaxing its hoglet out of its home. As well as protecting work surfaces from heat and scratches, worktop savers have many more practical uses around the home - from presenting food at the dining table or patio to marking out a designated area for in the kitchen for making tea or coffee. A glass worktop saver also makes a great pet food mat - perfect for keeping your cat or dog's food area clean and tidy whilst being easy to wipe down.
Hedgehugs Glass Worktop Save dimensions: W40cm x D30cm x H0.6cm.
This Hedgehugs glass worktop saver can be teamed with other coordinating items in the collection to complete the Hedgehugs look.
Part of the Hedgehugs collection - a delightful range that is perfect for own use or as a gift, especially to hedgehog lovers.