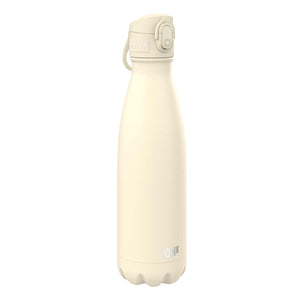 This 100% Ion8 leak proof double wall vacuum insulated water bottle keeps your drink at the perfect temperature for hours.
Easy to open and close with just one hand, this water bottle is perfect on the go.
A hygienic spout cover keeps germs and dirt out, flips open with one touch and locks closed for safety in a bag, whilst a vented smooth liquid flow ensures no spills in use.
A built in ring handle means it's easy to carry anywhere.
Odour & rust resistant, stainless steel is BPA free, toxin free and easy to clean for fresh tasting, long lasting flavour.
Double wall insulation prevents sweat and condensation, and stays dry to the touch. No water rings, damp bags or slippery hands.
As it fits most cup holders, it makes an ideal school, gym, commute or travel companion.
Lightweight, durable, refillable and reusable, this bottle can last for years.
Style: I8TS501PEAC
Suitable for warm and cold drinks from -10°C to 110°C. Note: Please be careful drinking directly from the bottle with very hot drinks. It may be preferable to pour very hot drinks into a cup first, to avoid burns.
Hand wash or use a dishwasher on a cool wash.